Gigabit Smart Managed Switches
DGS‑1210 Series
La serie DGS-1210 de Switches Gigabit Smart+ con Uplinks de Fibra se caracteriza por la integración de Administración avanzada junto con funciones de seguridad que entregan rendimiento y escalabilidad. Las opciones de administración para la serie incluye SNMP, Web Management, el utilitarion "D-Link Network Assistant" y lineas de comando compactas. También usa el Auto Voice VLAN desarrollado por D-Link para asegurar el ancho de banda y priorización necesarios para un buen rendimiento en redes de voz. Esta serie posee la tecnología D-Link Green 3.0, lo que le permite una alta eficiencia y ahorro en el uso de la energía ya que cumple con IEEE 802.3az (estándar para uso eficiente de Energía en Ethernet). Además soporta completamente los estándares de IPv6 y PoE (en los modelos con esta capacidad incluida).
Puntos de venta
Software de gestión de red centralizada y remoto gratuito Nuclias Connect.
Descarga gratis nuestro software de gestión de red Nuclias Connect, diseñado para la gestión unificada de la red, el control, la seguridad y el escalado más versátil. Puede utilizarse como una plataforma de gestión de software local o como una solución en la nube para acceso remoto. Como alternativa, Nuclias Connect Hub (DNH-100) ofrece gestión de redes centralizada basada en el hardware.
Equipo compatible con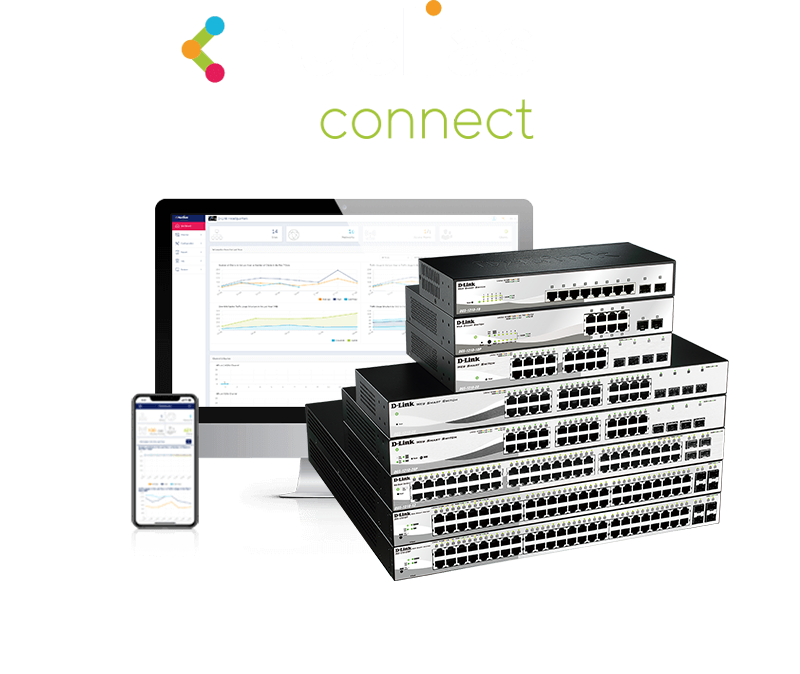 Características destacadas

Compact CLI via Telnet
Soporta Compact Command-Line Interface para gestión avanzada.

Static Routing
Enrute el tráfico de Layer 3 entre switches, incluso si están segmentados en VLAN.

Uplink Fibra óptica
Aumente las distancias de conexión con menos interferencias y mayor ancho de banda mediante fibra óptica.

Dual config files
Firmware upgrades y tests de configuración sin riesgos.

Interfaz de Videovigilancia CCTV
La exclusiva interfaz Surveillance de D-Link es fácil de usar y le ofrece una gestión más óptima de cámaras IP y grabadores de vídeo en red.
Gestión Smart con un Plus
Con más capacidad PoE, gestión avanzada de Capa 2 y funciones de Capa 3 como Static Routing, la gama de Switches Smart+ D‑Link DGS‑1210 proporciona la solución con mejor relación coste/eficiencia para el despliegue de redes gestionadas en cualquier entorno.

Conoce las Soluciones Smart de D‑Link
The DGS‑1210 Series Gigabit Smart Switches with Fibre Uplinks is the latest generation of D‑Link Smart Switches featuring D‑Link Green 3.0 technology. The series offers a high level of energy saving and efficiency, as it also complies with the IEEE 802.3az Energy Efficient Ethernet standard. Support for IPv6 management and configurations ensures your network remains protected after the upgrade from IPv4 to IPv61. By offering multiple management options, the Smart Switches allows quick deployment, infrastructure expansion, and seamless function upgrades. Built for small and medium‑sized businesses, the DGS‑1210 Series Smart Switches provide functionality, security, and manageability for a fraction of the standard cost of ownership.
Manageability
The DGS-1210 Smart family features advanced network management accessible via the Web-based UI that equip your business with network capabilities such as VLANs, Spanning Tree Protocol (STP), link aggregation, and dual configuration files.
With powerful security features including IGMP snooping, access control lists, and port security the DGS-1210 Smart family is a versatile solution for access-edge network environments.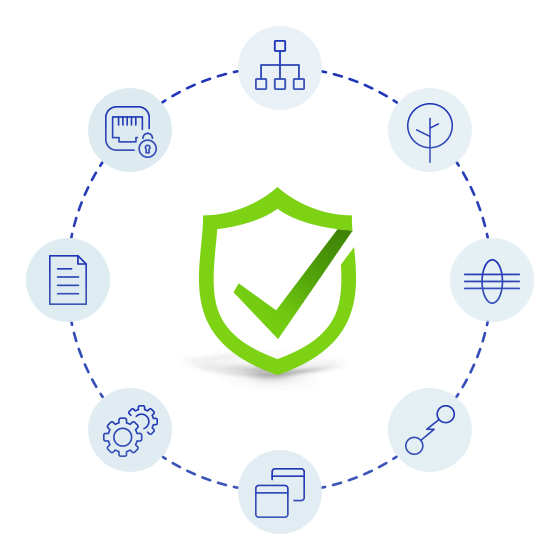 Uplinks de Fibra
Permiten una integración y gestión avanzada, con funciones extra de seguridad, mientras que aseguran el rendimiento y la escalabilidad necesarias para cualquier entorno empresarial.

PoE budget up to 193W
La serie DGS-1210 dispone de varios switches con puertos PoE para alimentar por el cable de red LAN los dispositivos compatibles: cámaras IP de Videovigilancia, teléfonos, puntos de acceso, etc, lo que aumenta la sencillez y flexibilidad de instalación.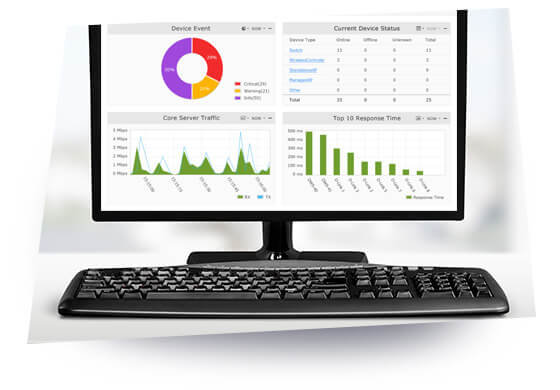 Free Network software
D-Link's free Network Assistant (DNA) displays all connected devices and speeds up the first time configuration. The free D-View 7 Network Management System comes with a license for 25 nodes and 2 probes and full access to the management tools. Optional upgrade licenses allow you to broaden your network and analysis.
Ahorro de energía
Gracias al soporte del estándar IEEE 302.3az Energy Efficient Ethernet y de la tecnología D-Link Green 3.0.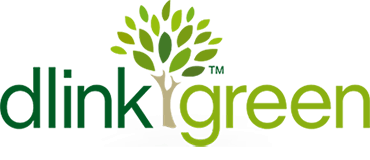 Auto Surveillance VLAN and Voice VLAN
The process of setting up IP surveillance and VoIP on a network is automated with the D‑Link Gigabit Smart Switches with Fibre Uplinks. Auto Surveillance VLAN (ASV) consolidates data and surveillance video transmission through the network, sparing businesses the expense of maintaining dedicated facilities. ASV also protects the quality of real‑time video by grouping IP surveillance devices on a single high priority VLAN. This ensures that surveillance video streams will not be affected when ordinary data traffic is at their highest levels. Similarly, the Auto Voice VLAN guarantees clear audio quality and efficient transmission for all voice communication.

DGS-1210-26
26-ports Managed Switch: 24 10/100/1000 UTP + 2 100/1000 SFP ports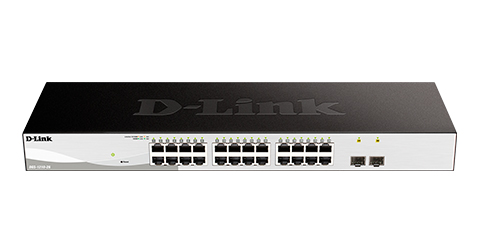 DGS-1210-28
28-ports Managed Switch: 24 10/100/1000 UTP + 4 100/1000 GbE/SFP combo ports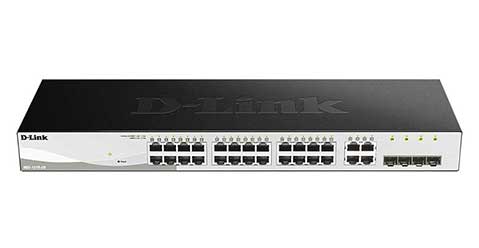 DGS-1210-52
52-ports Managed Switch: 48 10/100/1000 UTP + 4 100/1000 GbE/SFP combo ports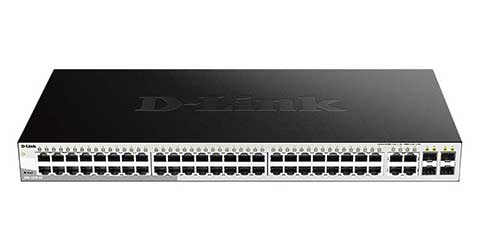 Especificaciones técnicas
• 24 x 10/100/1000BASE-T
• 2 x 100/1000 Mbps SFP ports
• 24 x 10/100/1000BASE-T
• 4 x 100/1000 Mbps GbE/SFP combo ports
• 48 x 10/100/1000BASE-T
• 4 x 100/1000 Mbps GbE/SFP combo ports
• IEEE 802.3 10BASE-T Ethernet (twisted-pair copper)
• IEEE 802.3u 100BASE-TX Fast Ethernet (twisted-pair copper)
• IEEE 802.3u 100BASE-FX 100 Mbps over fiber optic
• IEEE 802.3ab 1000BASE-T Gigabit Ethernet (twisted- pair copper)
• IEEE 802.3z 1000BASE-X 1 Gbps over fiber optic
• IEEE 802.3az Energy Efficient Ethernet (EEE)
• IEEE 802.3x Flow Control
• UTP Cat. 5, Cat. 5e (100 m max.)
• Full/Half-duplex for 10/100 Mbps
• Full-duplex for 1000 Mbps
• Auto MDI/MDIX adjustment for all twisted-pair ports
Maximum 64 Byte Packet Forwarding Rate
Link/Active/Speed (Per Port)
• MACAddressTable
8K entries
16K entries (DGS-1210-52/52MP only)
• IGMP Snooping
IGMP v1/v2 Snooping
IGMP v3 awareness
Supports 256 IGMP groups
Supports at least 64 static multicast addresses
IGMP per VLAN
Supports IGMP Snooping Querier
• Loopback Detection
• 802.3ad Link Aggregation:
DGS-1210-10/10P/10MP: Supports maximum 4 groups per device and 8 ports per group
DGS-1210-20/26/28/28P/28MP: Supports maximum 8 groups per device and 8 ports per group
DGS-1210-52/52MP: Supports max 16 groups per device and 8 ports per group
• LLDP
• LLDP-MED
• Jumbo Frame
Up to 10,000 bytes
• Spanning Tree Protocol
802.1D STP
802.1W RSTP
802.1s MSTP
• Flow Control
802.3x Flow Control
HOL Blocking Prevention
• Port Mirroring
One-to-One
Many-to-One
Supports Mirroring for Tx/Rx/Both
• Multicast Filtering
Forwards all unregistered groups
Filters all unregistered groups
• Configurable MDI/MDIX
MLD snooping v1/v2 (256 groups)
• 802.1Q
• VLAN Group
Max. 256 static VLAN groups
• Configurable VID from 1 - 4094
• Asymmetric VLAN
• AutoVoice VLAN
Max. 10 user-defined OUI
Max. 8 default OUI
• Auto Surveillance VLAN
• 802.1p Quality of Service • 8 queues per port
• Queue Handling
Strict
Weighted Round Robin (WRR)
• Bandwidth Control
Port-based (ingress/egress, min granularity 10/100/1000 is 16 Kbps)
• QoS based on:
802.1p priority queues • DSCP
MAC address
EtherType
IP address
Protocol type
ToS
IP preference
IPv6TrafficClass
TCP/UDP port
• IP interface
Supports 4 interfaces
• IPv6 Neighbor Discovery (ND)
• Static routing
124 IPv4 static route entries
50 IPv6 static route entries
Access Control List (ACL)
• Max. 50 access lists
• Max. 768 rules shared by IPv4, MAC, and IPv6
• Each rule can only be associated with a single port
• ACL based on:
• MAC address
802.1p priority mask
VID mask
Source/destination MAC address mask
EtherType mask
• IP address
Source/destination IP address mask
DSCP mask
Protocol type mask
TCP/UDP port number mask
• IPv6 address
Source/destination IP address mask
DSCP mask
Protocol type mask
TCP/UDP port number mask
IPv6 traffic class mask
• Broadcast/Multicast/Unicast Storm Control
• D-Link Safeguard Engine
• Traffic segmentation
• SSH v2
• TLS v.1.2
• DoS attack prevention
• 802.1X Port-based Access Control
• Port Security
Supports up to 64 MAC addresses per port
• ARP Spoofing Prevention
Max. 127 entries
• DHCP Server Screening
• IP-MAC-Port Binding (Smart Binding)
• ARP Inspection
Max. 256 entries
• IPv4 Inspection
Max. 127 entries
• IPv6 Inspection
Max. 63 entries
• DHCP Snooping
Max. 512 entries
• 802.1X Authentication
Supports local/RADIUS database
Supports port-based access control
SupportsEAP,OTP,TLS,TTLS,PEAP
Max. 128 entries when using local database
• IPv6 RADIUS server
• Support MD5 authentication
• Web-based GUI
• D-Link Network Assistant Utility
• Compact CLI
• Telnet Server
• TFTP Client
• Configurable MDI/MDIX
• SNMP
Supports v1/v2c/v3
• SNMPTrap
• Backup/upgrade firmware
• Smart Wizard
• Upload/download configuration file
• BootP/DHCP Client
• System Log
Max. 500 log entries
• SNTP
• ICMP v6
• IPv4/v6 Dual Stack
• DHCP Auto Configuration
• Time setting
SNTP
• RMONv1
• Trusted host
• Dual image
• Dual configuration
• RFC1212 Concise MIB Definitions
• RFC1213 MIBII
• RFC1215 MIB Traps Convention
• RFC1493 Bridge MIB
• RFC1157, RFC2573, RFC2575, RFC2576 SNMP MIB
• RFC1442, RFC1901, RFC1902, RFC1903, RFC1904, RFC1905,
• RFC1906, RFC1907, RFC1908, RFC2578, RFC3418 SNMPv2 MIB
• RFC271, RFC1757, RFC2819 RMON MIB
• RFC2021 RMONv2 MIB
• RFC1398, RFC1643, RFC1650, RFC2358, RFC2665 Ether-like MIB
• RFC2674 802.1p MIB
• Interface Group MIB
• RFC2618 RADIUS Authentication Client MIB
• RFC4022 MIB for TCP
• RFC4113 MIB for UDP
• RFC2389 MIB for Diffserv.
• RFC2620 RADIUS Accounting Client MIB
• Private MIB
• PoE MIB
• DDP MIB
• LLDP-MED MIB
• Power Saving by:
- Link Status
- Time-based PoE: PoE ports can be turned on/off by port or system through schedule
• System hibernation
• Port shut off
• Cable length detection
• Web-based GUI
• D-Link Network Assistant Utility
• Compact CLI
• Telnet Server
• TFTP Client
• Configurable MDI/MDIX
• SNMP
Supports v1/v2c/v3
• SNMPTrap
• Backup/upgrade firmware
• Smart Wizard
• Upload/download configuration file
• BootP/DHCP Client
• System Log
Max. 500 log entries
• SNTP
• ICMP v6
• IPv4/v6 Dual Stack
• DHCP Auto Configuration
• Time setting
SNTP
• RMONv1
• Trusted host
• Dual image
• Dual configuration
• RFC791 IP
• RFC768 UDP
• RFC793 TCP
• RFC792 ICMPv4
• RFC2463, RFC4443 ICMPv6
• RFC826 ARP
• RFC1321, RFC2284, RFC2865, RFC2716, RFC3580 Extensible
Authentication Protocol (EAP)
• RFC2573 SNMP Applications
• RFC2461, RFC4861 Neighbor Discovery for IPv6
• RFC2462, RFC4862 IPv6 Stateless Address Auto-configuration
(SLAAC)
• RFC2464 IPv6 over Ethernet and definition
• RFC4291 IPv6 Addressing Architecture
• RFC2893, RFC4213 IPv4/IPv6 dual stack function
Optional SFP Transceivers
• 1000BASE-LX, single-mode, 2 km
• Gigabit WDM transceiver, single-mode, 2 km
• 1000BASE-LX, single-mode, 10 km
• 1000BASE-SX, multi-mode, 550 m
• 1000BASE-SX, multi-mode, 2 km
• 1000BASE-LHX, single-mode, 50 km
• 100BASE-ZX, single-mode, 80 km
• Gigabit WDM transceiver, single-mode 10 km
• Gigabit WDM transceiver, single-mode 40 km
• 100BASE-FX, single-mode, 15 km
• 100BASE-FX, multi-mode, 2 km
• Fast Ethernet WDM transceiver, single-mode, 20 km
DGS-1210-28P
28-ports Managed PoE Switch: 24 10/100/1000 PoE UTP + 4 100/1000 GbE/SFP combo ports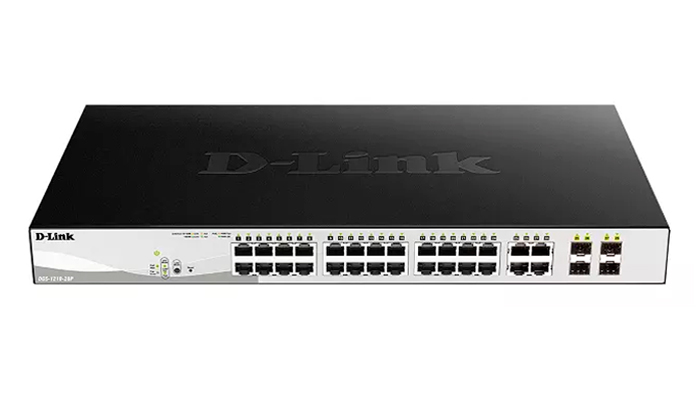 DGS-1210-28MP
28-ports Managed PoE Switch: 24 10/100/1000 PoE UTP + 4 100/1000 GbE/SFP combo ports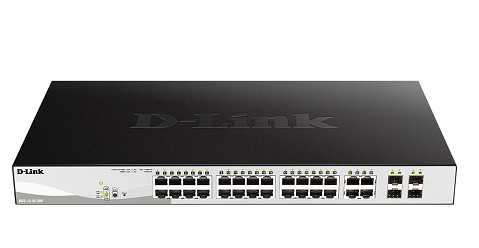 DGS-1210-52MP
52-ports Managed PoE Switch: 48 10/100/1000 PoE UTP + 4 100/1000 GbE/SFP combo ports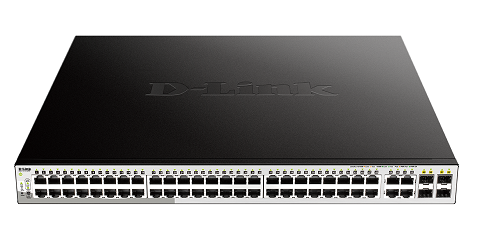 Especificaciones técnicas
• 24 10/100/1000BASE-T PoE
• 4 100/1000 Mbps GbE/ SFP combo ports
• 24 10/100/1000BASE-T PoE
• 4 100/1000 Mbps GbE/ SFP combo ports
• 48 10/100/1000BASE-T PoE
• 4 100/1000 Mbps GbE/ SFP combo ports
• IEEE 802.3 10BASE-T Ethernet (twisted-pair copper)
• IEEE 802.3u 100BASE-TX Fast Ethernet (twisted-pair copper)
• IEEE 802.3u 100BASE-FX 100 Mbps over fiber optic
• IEEE 802.3ab 1000BASE-T Gigabit Ethernet (twisted- pair copper)
• IEEE 802.3z 1000BASE-X 1 Gbps over fiber optic
• IEEE 802.3az Energy Efficient Ethernet (EEE)
• IEEE 802.3x Flow Control
• IEEE 802.3af/at compliance (for PoE ports)
• UTP Cat. 5, Cat. 5e (100 m max.)
• Full/Half-duplex for 10/100 Mbps
• Full-duplex for 1000 Mbps
• Auto MDI/MDIX adjustment for all twisted-pair ports
Maximum 64 Byte Packet Forwarding Rate
Link/Active/Speed (Per Port)
• MACAddressTable
8K entries
16K entries (DGS-1210-52/52MP only)
• IGMP Snooping
IGMP v1/v2 Snooping
IGMP v3 awareness
Supports 256 IGMP groups
Supports at least 64 static multicast addresses
IGMP per VLAN
Supports IGMP Snooping Querier
• Loopback Detection
• 802.3ad Link Aggregation:
DGS-1210-10/10P/10MP: Supports maximum 4 groups per device and 8 ports per group
DGS-1210-20/26/28/28P/28MP: Supports maximum 8 groups per device and 8 ports per group
DGS-1210-52/52MP: Supports max 16 groups per device and 8 ports per group
• LLDP
• LLDP-MED
• Jumbo Frame
Up to 10,000 bytes
• Spanning Tree Protocol
802.1D STP
802.1W RSTP
802.1s MSTP
• Flow Control
802.3x Flow Control
HOL Blocking Prevention
• Port Mirroring
One-to-One
Many-to-One
Supports Mirroring for Tx/Rx/Both
• Multicast Filtering
Forwards all unregistered groups
Filters all unregistered groups
• Configurable MDI/MDIX
MLD snooping v1/v2 (256 groups)
• 802.1Q
• VLAN Group
Max. 256 static VLAN groups
• Configurable VID from 1 - 4094
• Asymmetric VLAN
• AutoVoice VLAN
Max. 10 user-defined OUI
Max. 8 default OUI
• Auto Surveillance VLAN
• 802.1p Quality of Service • 8 queues per port
• Queue Handling
Strict
Weighted Round Robin (WRR)
• Bandwidth Control
Port-based (ingress/egress, min granularity 10/100/1000 is 16 Kbps)
• QoS based on:
802.1p priority queues • DSCP
MAC address
EtherType
IP address
Protocol type
ToS
IP preference
IPv6TrafficClass
TCP/UDP port
• IP interface
Supports 4 interfaces
• IPv6 Neighbor Discovery (ND)
• Static routing
124 IPv4 static route entries
50 IPv6 static route entries
Access Control List (ACL)
• Max. 50 access lists
• Max. 768 rules shared by IPv4, MAC, and IPv6
• Each rule can only be associated with a single port
• ACL based on:
• MAC address
802.1p priority mask
VID mask
Source/destination MAC address mask
EtherType mask
• IP address
Source/destination IP address mask
DSCP mask
Protocol type mask
TCP/UDP port number mask
• IPv6 address
Source/destination IP address mask
DSCP mask
Protocol type mask
TCP/UDP port number mask
IPv6 traffic class mask
• Broadcast/Multicast/Unicast Storm Control
• D-Link Safeguard Engine
• Traffic segmentation
• SSH v2
• TLS v.1.2
• DoS attack prevention
• 802.1X Port-based Access Control
• Port Security
Supports up to 64 MAC addresses per port
• ARP Spoofing Prevention
Max. 127 entries
• DHCP Server Screening
• IP-MAC-Port Binding (Smart Binding)
• ARP Inspection
Max. 256 entries
• IPv4 Inspection
Max. 127 entries
• IPv6 Inspection
Max. 63 entries
• DHCP Snooping
Max. 512 entries
• 802.1X Authentication
Supports local/RADIUS database
Supports port-based access control
SupportsEAP,OTP,TLS,TTLS,PEAP
Max. 128 entries when using local database
• IPv6 RADIUS server
• Support MD5 authentication
• Web-based GUI
• D-Link Network Assistant Utility
• Compact CLI
• Telnet Server
• TFTP Client
• Configurable MDI/MDIX
• SNMP
Supports v1/v2c/v3
• SNMPTrap
• Backup/upgrade firmware
• Smart Wizard
• Upload/download configuration file
• BootP/DHCP Client
• System Log
Max. 500 log entries
• SNTP
• ICMP v6
• IPv4/v6 Dual Stack
• DHCP Auto Configuration
• Time setting
SNTP
• RMONv1
• Trusted host
• Dual image
• Dual configuration
• RFC1212 Concise MIB Definitions
• RFC1213 MIBII
• RFC1215 MIB Traps Convention
• RFC1493 Bridge MIB
• RFC1157, RFC2573, RFC2575, RFC2576 SNMP MIB
• RFC1442, RFC1901, RFC1902, RFC1903, RFC1904, RFC1905,
• RFC1906, RFC1907, RFC1908, RFC2578, RFC3418 SNMPv2 MIB
• RFC271, RFC1757, RFC2819 RMON MIB
• RFC2021 RMONv2 MIB
• RFC1398, RFC1643, RFC1650, RFC2358, RFC2665 Ether-like MIB
• RFC2674 802.1p MIB
• Interface Group MIB
• RFC2618 RADIUS Authentication Client MIB
• RFC4022 MIB for TCP
• RFC4113 MIB for UDP
• RFC2389 MIB for Diffserv.
• RFC2620 RADIUS Accounting Client MIB
• Private MIB
• PoE MIB
• DDP MIB
• LLDP-MED MIB
• Power Saving by:
- Link Status
- Time-based PoE: PoE ports can be turned on/off by port or system through schedule
• System hibernation
• Port shut off
• Cable length detection
• Web-based GUI
• D-Link Network Assistant Utility
• Compact CLI
• Telnet Server
• TFTP Client
• Configurable MDI/MDIX
• SNMP
Supports v1/v2c/v3
• SNMPTrap
• Backup/upgrade firmware
• Smart Wizard
• Upload/download configuration file
• BootP/DHCP Client
• System Log
Max. 500 log entries
• SNTP
• ICMP v6
• IPv4/v6 Dual Stack
• DHCP Auto Configuration
• Time setting
SNTP
• RMONv1
• Trusted host
• Dual image
• Dual configuration
• RFC791 IP
• RFC768 UDP
• RFC793 TCP
• RFC792 ICMPv4
• RFC2463, RFC4443 ICMPv6
• RFC826 ARP
• RFC1321, RFC2284, RFC2865, RFC2716, RFC3580 Extensible
Authentication Protocol (EAP)
• RFC2573 SNMP Applications
• RFC2461, RFC4861 Neighbor Discovery for IPv6
• RFC2462, RFC4862 IPv6 Stateless Address Auto-configuration
(SLAAC)
• RFC2464 IPv6 over Ethernet and definition
• RFC4291 IPv6 Addressing Architecture
• RFC2893, RFC4213 IPv4/IPv6 dual stack function
Optional SFP Transceivers
• 1000BASE-LX, single-mode, 2 km
• Gigabit WDM transceiver, single-mode, 2 km
• 1000BASE-LX, single-mode, 10 km
• 1000BASE-SX, multi-mode, 550 m
• 1000BASE-SX, multi-mode, 2 km
• 1000BASE-LHX, single-mode, 50 km
• 100BASE-ZX, single-mode, 80 km
• Gigabit WDM transceiver, single-mode 10 km
• Gigabit WDM transceiver, single-mode 40 km
• 100BASE-FX, single-mode, 15 km
• 100BASE-FX, multi-mode, 2 km
• Fast Ethernet WDM transceiver, single-mode, 20 km