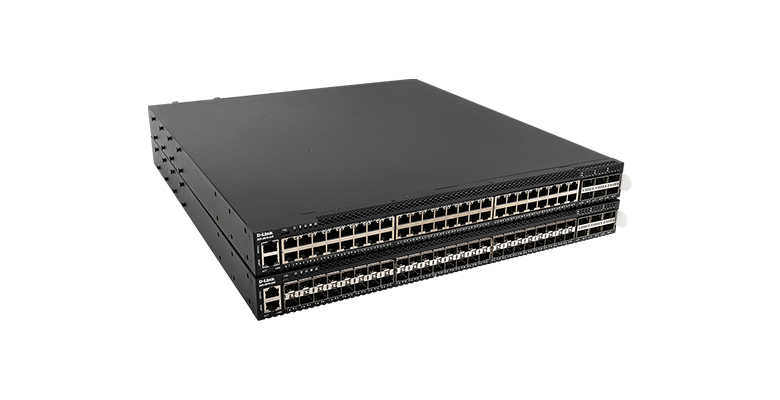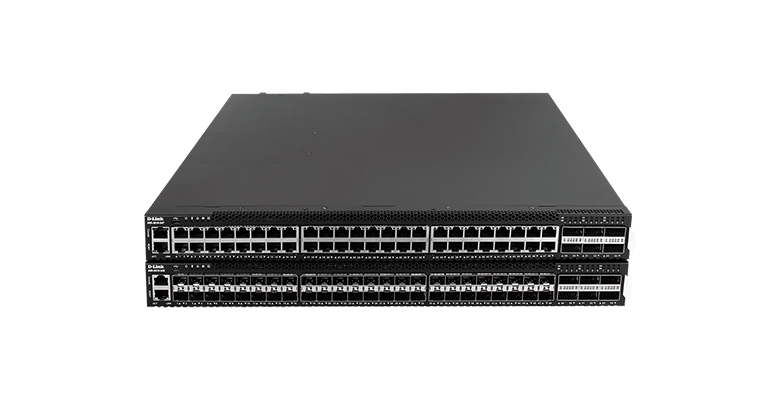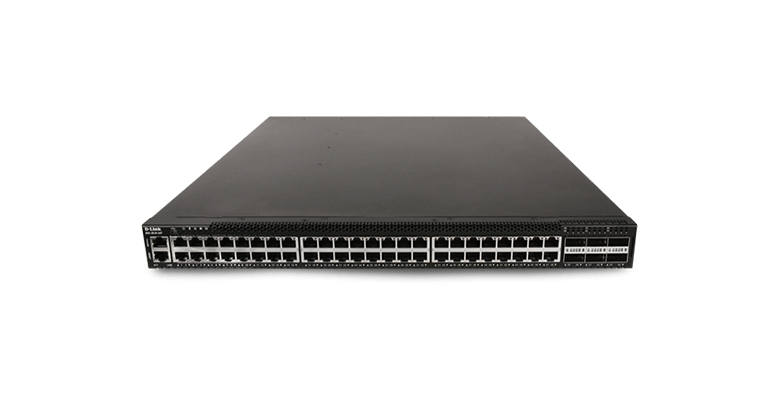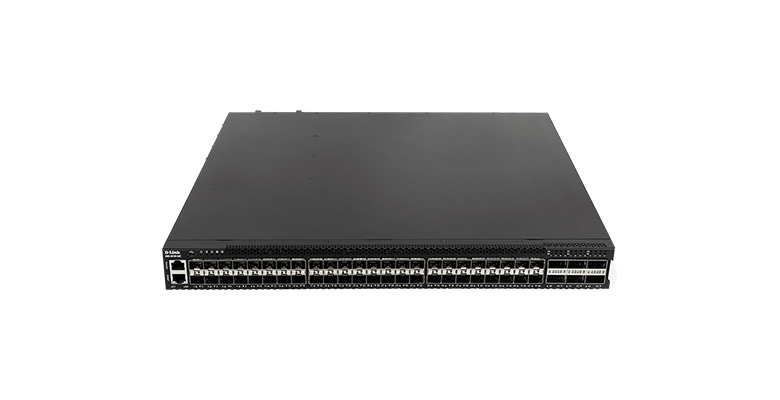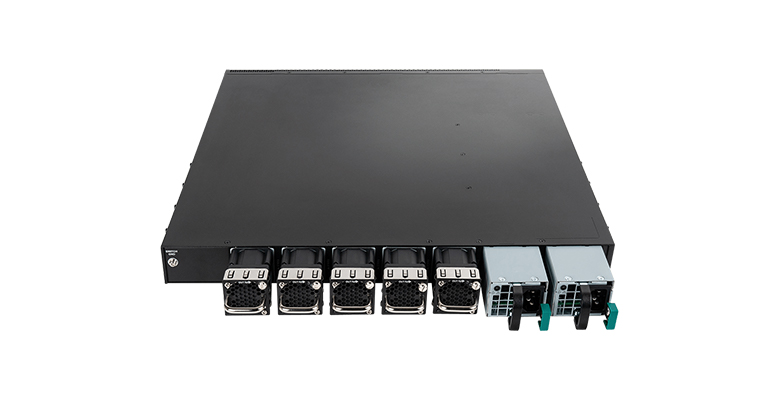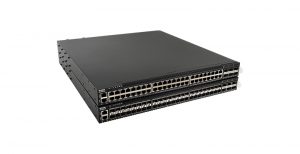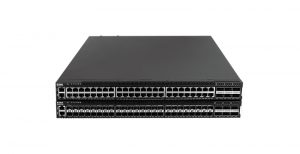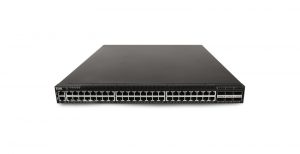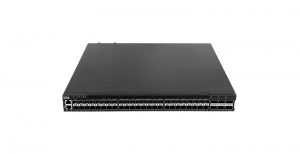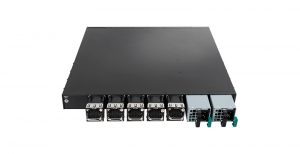 Layer 3 Stackable
10G / 100G Managed Switches
DXS-3610 Series
The DXS-3610 Series Layer 3 Stackable 10G/100G Managed Switches are ideal for core/aggregation networks in datacenters and enterprise applications.
High speed network infrastructure with multiple interfaces
Stack up to 12 switches (up to 1.2 Tbps stacking bandwidth)
OpenFlow 1.3 compliance for SDN-enabled network compatibility
Modular PSU (1+1) and fan (N+1) with load sharing capabilities
Switch Resource Management (SRM) for flexible system resource manageability
Switch locator LED and ID tag for maintenance convenience
Upgradable license for full L3 and MPLS applications
Puntos de venta
Switching that Stacks Above the Competition
The DXS-3610 Layer 3 Stackable 10G/100G Managed Switches are compatible with SDN-enabled network architecture for deployment in high-performance datacenter, enterprise, and campus applications. Hot-swappable PSU and fan modules with load sharing capabilities significantly reduce network downtime and power consumption. Stackable up to 12 units and high port density makes the DXS-3610 the ideal choice for future-proofing your aggregation/core network.
Why You Want It

Highly Scalable
License upgradable to MPLS, supports Switch Resource Management

High Performance
Powerful 100G uplink speed, 48 x 10G ports and Mac Table up to 288K
Hot-Swappable Redundancy
Multiple Fan Modules with Load-Sharing PSUs

SDN Compatible
OpenFlow v1.3 compliance for SDN environments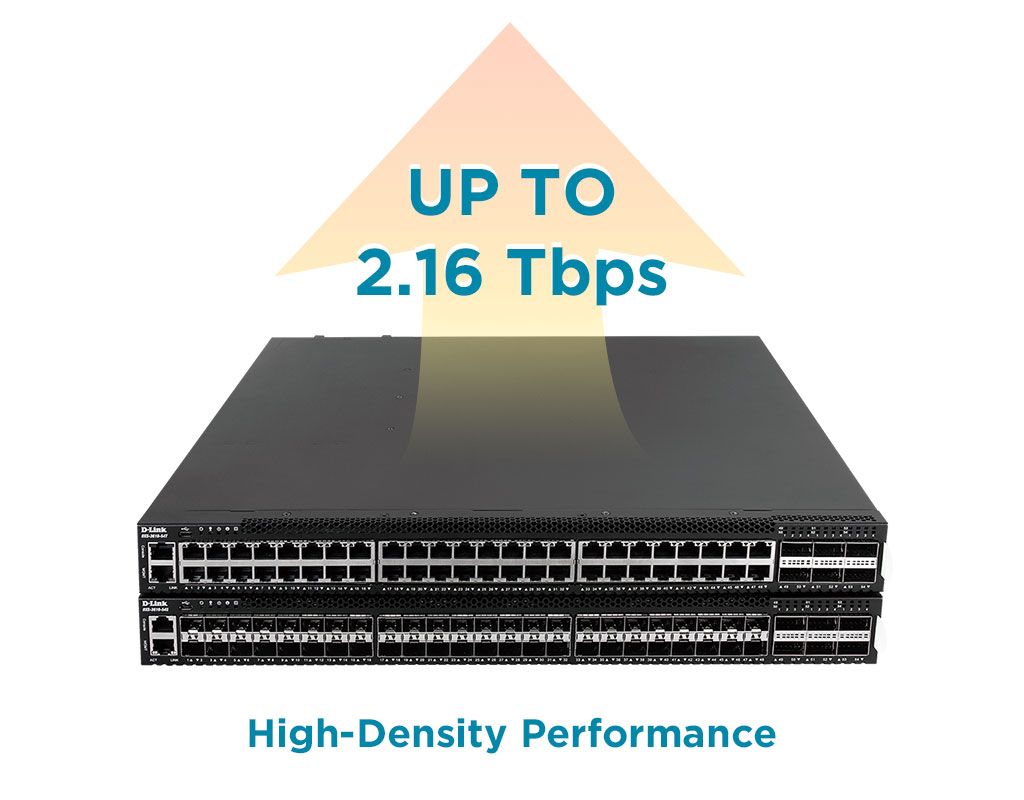 High Availability
The DXS-3610 Series boasts high-performance 10G Ethernet switching capacity of up to 2.16 Tbps with forwarding rates of up to 1607 Mpps.
Hot-Swappable Redundancy
The DXS-3610 Series also features a modular fan back-up design, providing n+1 redundancy for the system. The modular power design allows either AC or DC power sources for maximum deployment flexibility. With dual power modules, the power load is distributed, extending the lifetime of the modules.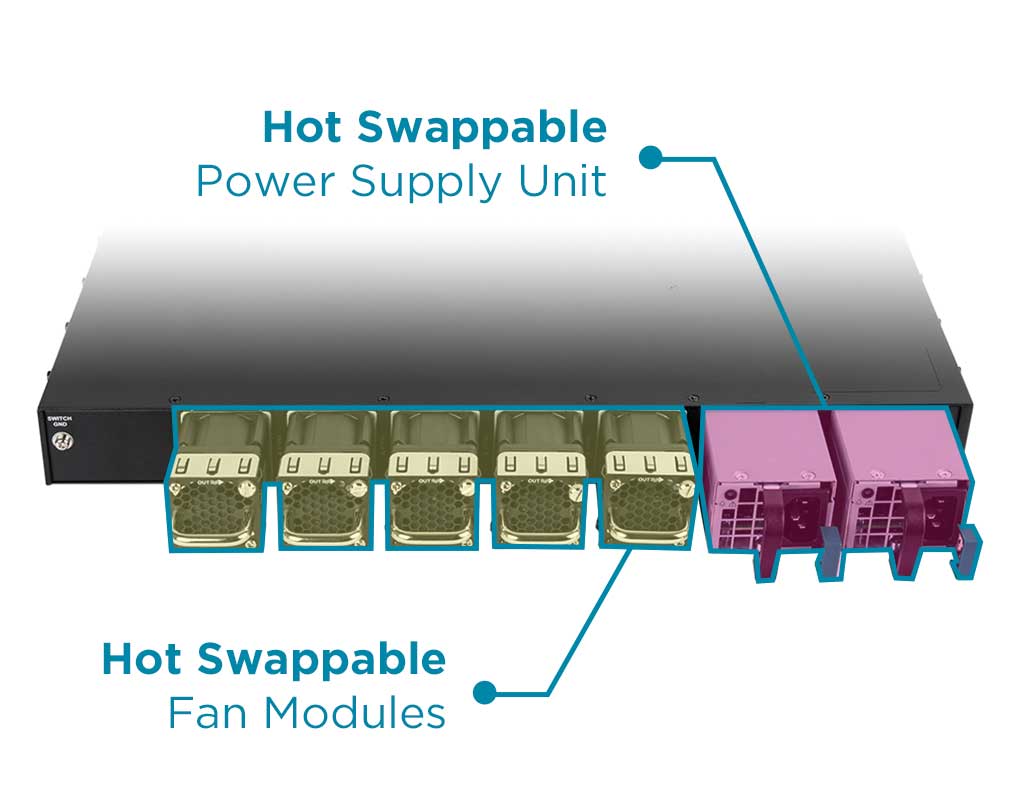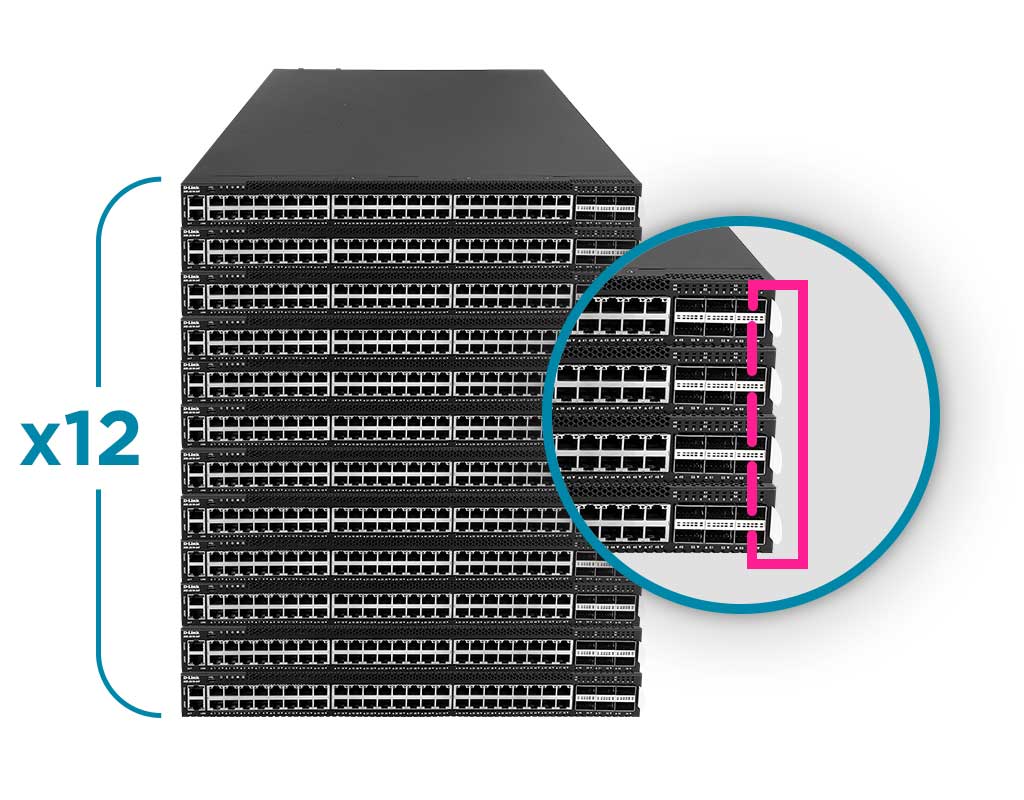 Robust and Versatile Stacking Capability
Stack up to 12 DXS-3610 switches with up to a total of 1200G (1.2T) stacking bandwidth. Perfect for small to medium-sized data centers in enterprise or campus applications using leaf-spine or top-of-rack (ToR) architecture.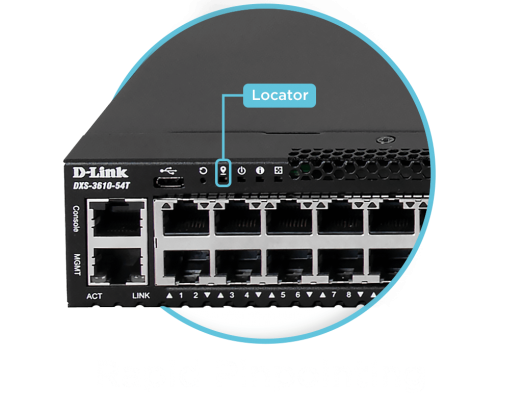 Simplified Deployment
Remotely activate the front panel LED indicator to rapidly locate the DXS-3610 in your data center or server room that requires extra attention.

Enhanced Manageability for Peace of Mind
For more complex network infrastructures, D-View 7, a centralized management platform, can be installed for in-depth network management and maintenance to optimize network availability, reliability, security, and resilience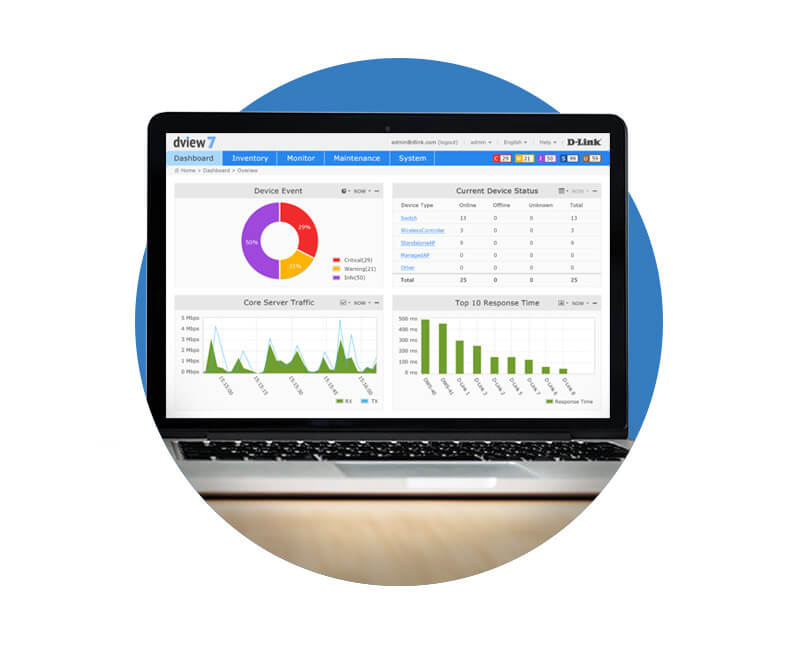 DXS-3610-54S
• 48 x 1/10GbE SFP/SFP+ ports
• 6 x 40/100GbE QSFP+/QSFP28 ports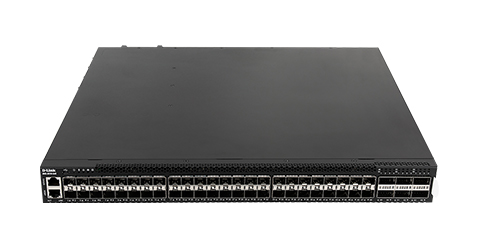 DXS-3610-54T
• 48 x 1/10GbE Base-T ports
• 6 x 40/100 GbE QSFP+/QSFP28 ports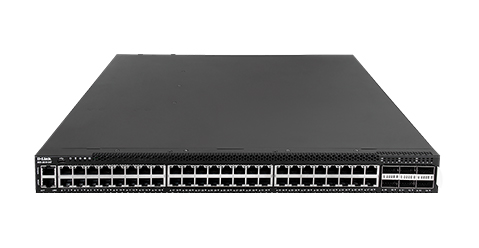 Especificaciones técnicas
• 48 x 1/10GbE SFP/SFP+ ports
• 6 x 40/100GbE QSFP+/QSFP28 ports
• 48 x 1/10GbE Base-T ports
• 6 x 40/100 GbE QSFP+/QSFP28 ports
• RJ-45 console port for out-of-band management
• 10/100/1000 BASE-T RJ-45 Ethernet for out-of-band remote management
• 1 x USB 2.0 Type A port
Standard Image Software Features
• Virtual Stacking/Clustering of up to 32 units
- Supports D-Link Single IP Management
• Physical Stacking
- Up to 1200G stacking bandwidth
- Up to 12 switches in a stack
- Ring/chain topology support
• MAC Address Table
- Max 288K entries²
• Flow Control
- 802.3x Flow Control when using full-duplex
- Back Pressure when using half-duplex
- HOL Blocking Prevention
• Spanning Tree Protocol
- 802.1D STP
- 802.1w RSTP
- 802.1s MSTP
- Supports Root Restriction
• Jumbo Frame
- Up to 9416 bytes
• 802.1AX Link Aggregation
- Max. 32 groups per device, 12 ports per group
• ERPS (Ethernet Ring Protection Switching)
• Port mirroring
- Supports One-to-One, Many-to-One
- Supports Mirroring for Tx/Rx/Both
- Supports 4 mirroring groups
• Flow mirroring
- Supports One-to-One, Many-to-One
- Supports Mirroring for Rx
-Supports 4 mirroring groups
• RSPAN mirroring
• Loopback Detection
• L2 Protocol Tunneling
• L2 Multicast Filtering
- Forwards all groups
- Forwards all unregistered groups
- Filters all unregistered groups
• MLD Snooping
- MLD v1/v2 Snooping
- Supports a max of 8k MLD snooping groups
- Host-based MLD Snooping Fast Leave
• IGMP Snooping
- IGMP v1/v2/v3 Snooping
- Supports a max of 16K IGMP snooping groups
- Supports 1K static multicast addresses
- IGMP per VLAN
- Host-based IGMP Snooping Fast Leave
• PIM Snooping
• ARP
- 512 static ARP
- Supports Gratuitous ARP
• IPv6 Tunneling
- Static
- ISATAP
- GRE
- 6to4
• IP Interface
- Supports 256 interfaces
• Loopback Interface
• IPv6 Neighbor Discovery (ND)
• IP Helper
• Static routing
- Max. 1K IPv4 entries
- Max. 512 IPv6 entries
- Supports secondary route
- Supports Equal Cost/Weighted Cost multi-path route
• Default Routing
• Supports hardware routing entries shared by IPv4/IPv6
- Max. 32K IPv4 entries
- Max. 16K IPv6 entries
• Supports hardware L3 forwarding entries shared by IPv4/IPv6
- Max. 144K IPv4 entries²
- Max. 144K IPv6 entries²
• Route Redistribution
- Default Route
- Static Route
• Graceful Restart (GR) Helper
• Policy Based Route
• Bidirectional Forwarding Detection (BFD)
- IPv4/v6 Static Route
- RIP/RIPng
- Supports OSPF
- Supports VRRP
• OSPF
- OSPFv2/v3
- IPv4 Static Route
- OSPF Passive Interface
- OSPF Equal Cost Route
• RIP
- RIPv1/v2
- RIPng
• VRRPv2/v3
• 802.1Q
• 802.1v
• DoubleVLAN(Q-in-Q)
- Port-based Q-in-Q
- Selective Q-in-Q
• Port-based VLAN
• MAC-based VLAN
• Subnet-based VLAN
• Private VLAN
• VLAN group
- Max. 4K static VLAN groups
- Max. 4094 VIDs
• GVRP
- Up to 4K dynamic VLANs
• VLAN Translation
• ISM VLAN (Multicast VLAN)
• Private VLAN
• Super VLAN
• VLAN Trunking
• 802.1X authentication
- Supports port-based access control
- Supports host-based access control
- Dynamic VLAN assignment
- Identity-driven policy (VLAN/ACL/QoS) assignment
• Web-based Access Control (WAC)
- Supports port-based access control
- Supports host-based access control
- Dynamic VLAN Assignment
- Identity-driven Policy (VLAN/ACL/QoS) Assignment
• MAC-based Access Control (MAC)
- Supports port-based access control
- Supports host-based access control
- Dynamic VLAN Assignment
- Identity-driven Policy (VLAN/ACL/QoS) Assignment
• Guest VLAN
• Compound Authentication
• Microsoft NAP
- Supports 802.1X NAP
- Supports DHCP NAP
• RADIUS and TACACS+ authentication
• Authentication Database Failover
• Trusted Host
• 802.1p Quality of Service (QoS)
• 8 queues per port
• Queue handling
- Strict
- Weighted Round Robin (WRR)
- Strict + WRR
- Round Robin (RR)
- Weighted Deficit Round Robin (WDRR)
• QoS based on:
- 802.1p Priority Queues
- DSCP
- IP address
- MAC address
- VLAN
- IPv6 Traffic Class
- IPv6 Flow Label
- TCP/UDP port
• Bandwidth Control
- Port-based (ingress/egress, min. granularity 8 Kb/s)
- Flow-based (ingress/egress, min. granularity 8 Kb/s)
- Per queue bandwidth control (min. granularity 8 Kb/s)
• Three Color Marker
- trTCM
- srTCM
• Congestion Contro
- WRED
• Support for following actions:
- Remark 802.1p priority tag
- Remark TOS/DSCP tag
- Bandwidth Control
- Committed Information Rate (CIR)
Access Control List (ACL)
• ACL based on:
- 802.1p priority
- VLAN
- MAC address
- EtherType
- IP address
- DSCP
- Protocol type
- TCP/UDP port number
- IPv6 Traffic Class
- IPv6 Flow Label
• Max. ACL entries:
- 2304 ingress ACL rules
- 2K egress ACL rules
- 3K VLAN Access Maps
• Time-based ACL
• Port Security
- Supports up to 12K MAC addresses per port/system
• Broadcast/Multicast/Unicast Storm Control
• D-Link Safeguard Engine
• DHCP Server Screening
• IP-MAC-Port Binding (IMPB)
• Dynamic ARP Inspection
• IP Source Guard
• DHCP Snooping
• IPv6 Snooping
• DHCPv6 Guard
• IPv6 Route Advertisement (RA) Guard
• IPv6 ND Inspection
• ARP Spoofing Prevention
- Max. 64 entries
• Traffic Segmentation
• SSL
- Supports IPv4/v6 access
- Supports TLS 1.2
• SSH
- Supports v2
- Supports IPv4/v6 access
• BPDU Attack Protection
• DOS Attack Prevention
• Web-based GUI
• CLI
• Telnet Server/Client
• TFTP Client
• FTP Client
• Traffic Monitoring
• SNMP
- Supports v1/v2c/v3
• SNMP Trap
• System Log
• DHCP Client
• DHCP Server
• DHCP Relay options 12, 60, 61, 82
• Multiple Image
• Multiple Configuration
• Flash File System
• Microsoft® Network Load Balancing (NLB)
• Switch Resource Management (SRM)
• sFlow
• DNS Resolver
• CPU Monitoring
• MTU Setting
• Traceroute and Ping
• LLDP/LLDP-MED
• DNS Relay
• SMTP
• DHCP Auto Configuration
• SNTP
• RCP (Remote Copy Protocol)
• RMONv1
• RMONv2
• Trusted Host
• Password encryption
• Debug command
• IPv6 Stateless Address Auto-configuration (SLAAC)
• D-Link Discover Protocol (DDP)
• D-Link License Management System (DLMS)
• OpenFlow v1.3
Enhanced Image (EI) Additional Features
• Multicast Table Size: Up to 16K3
• IGMP v1, v2c, v3
• PIM-SM IPv4/IPv6
• PIM-DM
• Multicast Source Discovery Protocol (MSDP)
• PIM-Sparse-Dense Mode
• PIM-SSM
• DVMRP v3
• MLD v1/v2
• Label Distribution Protocol (LDP)
• Penultimate Hop Popping (PHP)
• Virtual Private Wire Service (VPWS)
• Virtual Private LAN Service (VPLS)
• BGP/MPLS VPN
- Multiprotocol extensions for BGP4
- Virtual Routing Forwarding (VRF)
• LSP MPLS Ping/Traceroute
• VCCV Ping/Traceroute
• BGP v4/v4+
• IS-IS
• IS-ISv6
• VRF Lite
- BGPv4
- OSPFv2
- IPV4 Static Route
- RIPv1/2
• IP Directed Broadcast
• Bidirectional Forwarding Detection (BFD)
- BGP
• MPLS/BGP L3 VPN
• MP-BGP
• RFC1213 MIB II
• RFC1907 SNMP v2 MIB
• RFC5519 IGMP v3 MIB
• RFC1724 RIP v2 MIB
• RFC2021 RMONv2 MIB
• RFC1643, RFC2358, RFC2665 Ether-like MIB
• RFC4836 802.3 MAU MIB
• RFC4363 802.1p MIB
• RFC2618 RADIUS Authentication Client MIB
• RFC4292 IP Forwarding Table MIB
• RFC2932 IPv4 Multicast Routing MIB
• RFC2934 PIM MIB for IPv4
• RFC2620 RADIUS Accounting Client MIB
• RFC2925 Traceroute MIB
• RFC2925 Ping MIB
• RFC1850 OSPF MIB
• Private MIB
• RFC1112, RFC2236, RFC3376, RFC4541 IGMP Snooping
• RFC4363 802.1v
• RFC2338 VRRP
• RFC1058, RFC1388, RFC1723, RFC2453, RFC2080 RIP
• RFC1370 Applicability Statement for OSPF
• RFC1765 OSPF Database Overflow
• RFC2328 OSPF v2
• RFC2740 OSPF for IPv6
• RFC3101 OSPF Not-So-Stubby Area (NSSA) option; makes
RFC1587 obsolete
• RFC2328 makes RFC2178 obsolete
• RFC2178 makes RFC1583 obsolete
• RFC1771, RFC1997, RFC2439, RFC2796, RFC2842, RFC2918 BGP
• RFC3973 PIM-DM
• RFC5059 PIM-SM
• RFC3569, RFC4601, RFC4608, RFC4607, RFC4604 PIM SSM
• RFC3376 IGMP
• RFC2475 Priority Queue Mapping
• RFC2475, RFC2598 Class of Service (CoS)
• RFC2597, RFC2598 QoS Flow Actions
• RFC2697, RFC2698 Three Color Marker, RFC2093, RFC2904,
RFC2095, RFC2906 AAA
• RFC1321, RFC2144, RFC2313, RFC2420, RFC2841, RFC3394
Encryption
• RFC2289 One-Time
• RFC3580 802.1X
• RFC2866 RADIUS Accounting
• RFC2138, RFC2139, RFC2865, RFC2618 RADIUS Author. for
Management Access
• RFC1492 TACACS+ Auth. for Management Access
• RFC2068, RFC2616 Web-based GUI
• RFC854 Telnet Server
• RFC783, RFC1350 TFTP Client
• RFC1157, RFC1901, RFC1908, RFC2570, RFC2574, RFC2575,
RFC3411-17 SNMP
• RFC3164 System Log
• RFC2819 RMON v1
• RFC951, RFC1542, RFC2131, RFC3046 BootP/DHCP Client
• RFC1769 Time Setting
• RFC2131 DHCP Server
• RFC1191 MTU Setting
• RFC1065, RFC1066, RFC1155, RFC1156, RFC2578 MIB Structure
• RFC1215 MIB Traps Convention
• RFC4188 Bridge MIB
• RFC1157, RFC2571-2576, RFC3411-3415, RFC3418 SNMP MIB
• RFC1901-1908,RFC1442, RFC2578 SNMP v2 MIB
• RFC2737 Entity MIB
• RFC768 UDP
• RFC791 IP
• RFC792 ICMP
• RFC793 TCP
• RFC826 ARP
• RFC1338, RFC1519 CIDR
• RFC2716, RFC3748 EAP
• RFC2571, RFC2572, RFC2573, RFC2574 SNMP
Optional Management Software
• D-View 7 - 25 node license
• D-View 7 - 50 node license
• D-View 7 - 100 node license
• D-View 7 - 250 node license
• D-View 7 - 500 node license
• D-View 7 - 1000 node license
• D-View 7 - 5 probe license
• D-View 7 - 10 probe license
• D-View 7 - 25 probe license
• D-View 7 - 50 probe license
• D-View 7 - 100 probe license
Optional 100G QSFP28 Transceivers⁴
• 100GBASE-SR4 QSFP28, Multi-Mode 100 m SR4 transceiver
• 100GBASE-LR4 QSFP28, Single-Mode 10 km LR4 transceiver
Optional 40G QSFP+ Transceivers⁴
• 40GBASE-SR4 Multi-mode, OM3:100M/OM4:150 m
• 40GBASE-LR4 Single-mode, 10 km
Optional 10G SFP+ Transceivers⁴
• 10GBASE-SR SFP+ transceiver (w/o DDM), 80 m: OM1 & OM2 MMF, 300 m: OM3 MMF
• 10GBASE-LR SFP+ transceiver (w/o DDM), 10 km
• 10GBASE-ER SFP+ transceiver (w/o DDM), 40 km
• 10GBASE-ZR SFP+ transceiver (w/o DDM), 80 km
• 10GBASE-LR BiDi SFP+ transceiver (w/o DDM) 20 km, Tx: 1270 nm, Rx: 1330 nm
• 10GBASE-LR BiDi SFP+ transceiver (w/o DDM) 20 km, Tx: 1330 nm, Rx: 1270 nm
Optional 1G SFP Transceivers⁴
• 1000BASE-LX SFP transceiver, single-mode fiber, 10 km, 3.3 V operating voltage
• 1000BASE-BX WDM SFP transceiver single-mode fiber, 40 km, 3.3 V operating voltage, Tx: 1310 nm, Rx: 1550 nm
• 1000BASE-BX WDM SFP transceiver, single-mode fiber, 40 km, 3.3 V operating voltage, Tx:1550 nm, Rx: 1310 nm
• 1000BASE-BX WDM SFP transceiver, single-mode fiber, 10 km, 3.3 V operating voltage, Tx: 1310 nm, Rx: 1550 nm
• 1000BASE-BX WDM SFP transceiver, single-mode fiber, 10 km, 3.3 V operating voltage, Tx: 1550 nm, Rx: 1310 nm
• 1000BASE-ZX SFP transceiver, single-mode fiber, 80 km, 3.3 V operating voltage
• 1000BASE-LHX SFP transceiver, single-mode fiber, 50 km, 3.3 V operating voltage
• 1000BASE-SX SFP transceiver multi-mode fiber, 2 km, 3.3 V operating voltage
• 1000BASE-SX SFP transceiver, multi-mode fiber, 550 m, 3.3 V operating voltage
• 1000BASE-TX SFP transceiver
Optional 100G QSFP28 Direct Attach Cables
• 100G QSFP28 to QSFP28 1 m Direct Attach Cable
Optional 40G QSFP+ Direct Attach Cables
• 40G QSFP+ to QSFP+ 1 m Direct Attach Cable
• 40G QSFP+ to QSFP+ 3 m Direct Attach Cable
Optional 10G SFP+ Direct Attach Cables
• 10G SFP+ to SFP+ 1 m Direct Attach Cable
• 10G SFP+ to SFP+ 3 m Direct Attach Cable
• 10G SFP+ to SFP+ 7 m Direct Attach Cable
1 Will be supported in future releases.
2 Based on maximum value of Switch Resource Management (SRM)
3 Table is shared between all multicast functions
4 Only supports full duplex mode