AC2100 Wi-Fi Gigabit Router
DIR-2150
AC2100 speeds up to 300 Mbps (2.4 GHz) + 1733 Mbps (5 GHz)
Supports IEEE 802.11ac, 802.11n, 802.11g
MU-MIMO technology sends data to more devices simultaneously
Supports 802.11k/v mesh smart roaming
Supports WPA3™ - the latest Wi-Fi security for more protection
Smart Connect automatically steers devices to the optimal wireless band
Gigabit Ethernet Internet (WAN) port ready for high-speed internet connections
4 Gigabit ports provide up to 1000 Mbps each to wired devices
IPv6 ready
Quick VPN wizard to access a remote network
D-Link intelligent QoS technology prioritizes important traffic
D-Link over-the-air (FOTA) firmware updates
Profile-based parental controls make it easier control kids' online activities
Works with the Google Assistant and Alexa
Mesh smart roaming requiere que el dispositivo cliente sea compatible con el estándar 802.11k/v como por ejemplo el
Puntos de venta
The DIR-2150 delivers premium performance for users who demand faster Wi-Fi speeds for HD streaming, online gaming and downloading. With support for MU-MIMO technology allowing multiple devices to get high bandwidth Wi-Fi signal at the same time as well as multiple Gigabit Ethernet ports – there's enough high-speed Internet everyone.
WHY YOU WANT IT

MU-MIMO Technology
High-bandwidth Wi-Fi signal to multiple devices at the same time.

AC2100 Speeds
Plenty of bandwidth for HD streaming, online gaming and downloading.

Simultaneous Dual-Band
Like having two Wi-Fi networks, connect more devices with less congestion.

Smart Connect
Automatically shifts your devices to the optimum wireless band.

Gigabit Ports
For high-speed internet and wired devices such as media centers, network storage, and game consoles.

Profile-based Parental Controls
Set up profiles for your kids' devices to control when they can go online.

Mesh Smart Roaming
Create a Mesh network and maintain a seamless Wi-Fi connection throughout your home.

Test Internet Speed
Built-in internet test powered by Ookla® to check your connection uplink and downlink speeds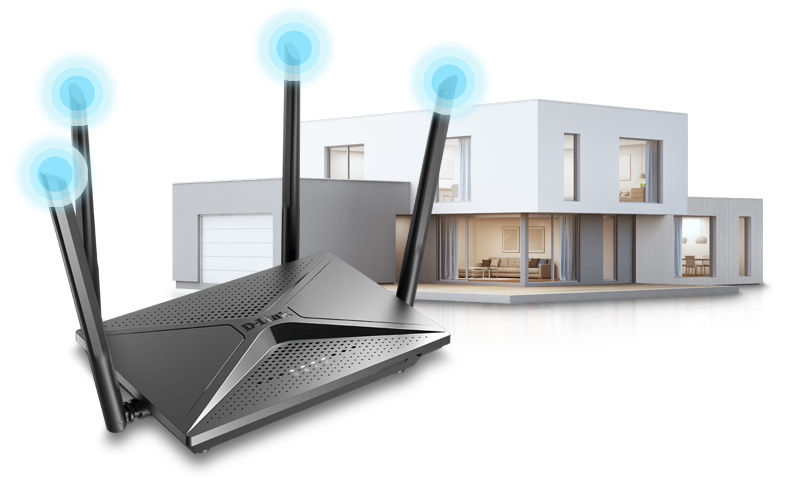 Greater Coverage Throughout Your Home
Four high-performance external antennas deliver stronger Wi-Fi coverage throughout your home. This allows more devices around your home to connect faster and with fewer Wi-Fi dead zones.
Dual-Band with a Kick
Independent data streams are delivered to each device on the network for speeds of up to 2100 Mbps (300 Mbps in 2.4 GHz + 1733 Mbps in 5 GHz). The best performance for streaming your favorite movies or playing games with your friends.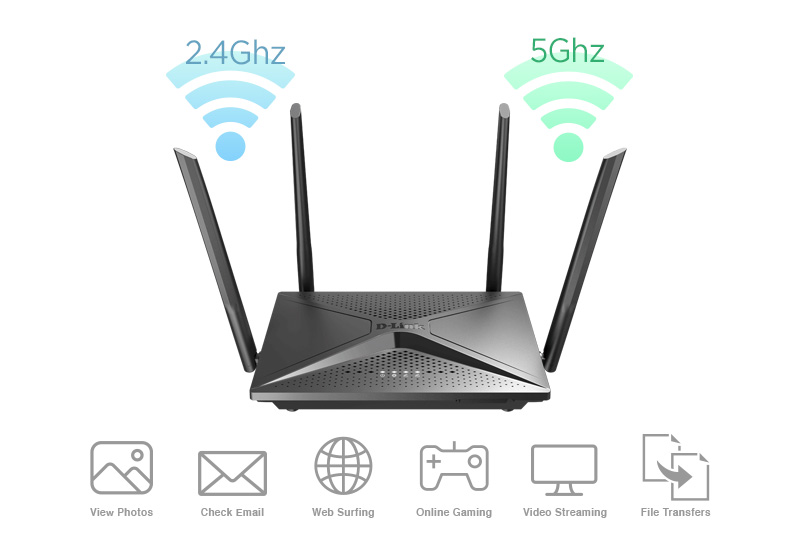 Multi User MIMO (MU MIMO)
With MU-MIMO technology, multiple devices can get high-bandwidth Wi-Fi signal at the same time, distributing data more efficiently, and giving you the fastest Wi-Fi speeds in your home. You can stream HD media faster, transfer large files quickly, and play buffer-free gaming.
Best Wired Performance
Connect up to four wired devices and enjoy the best online experience for 4K streaming and online gaming. Up to 1 Gbps speeds to each and every device!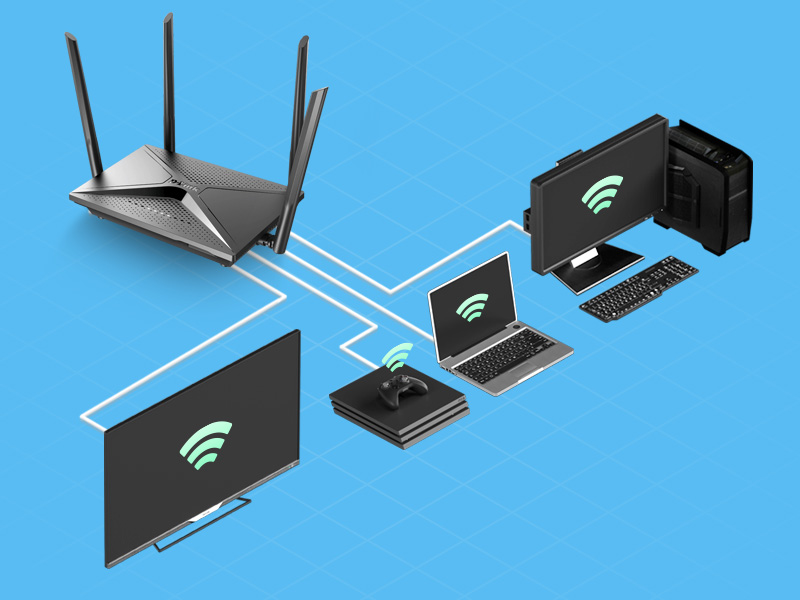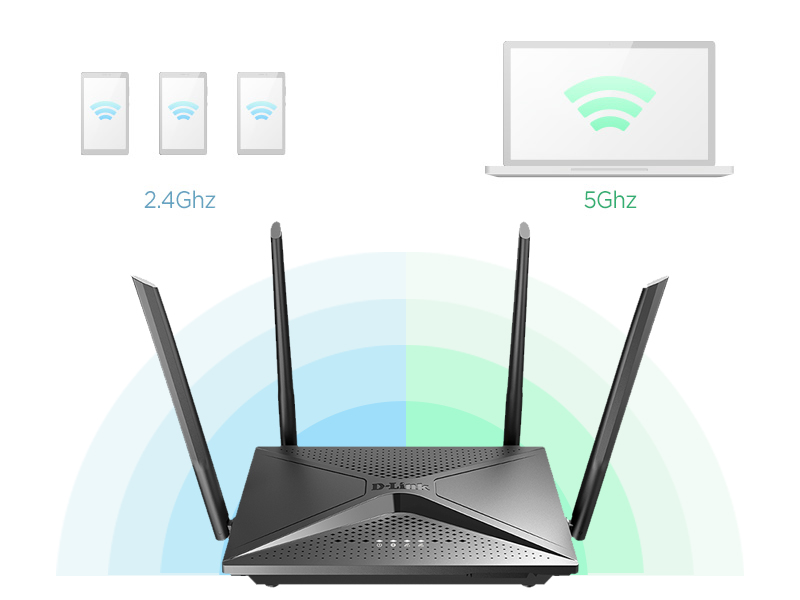 Optimal Bandwidth Connection
Not all Wi-Fi bands are the same, but you don't need to worry about that. The DIR-2150 chooses from two Wi-Fi bands and automatically connects each device on your network to the best band available for a seamless connection every time.
The Future of Wireless Encryption
One of the biggest concerns with IoT devices and Wi-Fi networks is privacy. Selected devices feature the latest WPA3™ encryption. It's the most advanced Wi-Fi Alliance security standard available and begins a new era of wireless encryption, ensuring greater privacy throughout users' devices and networks.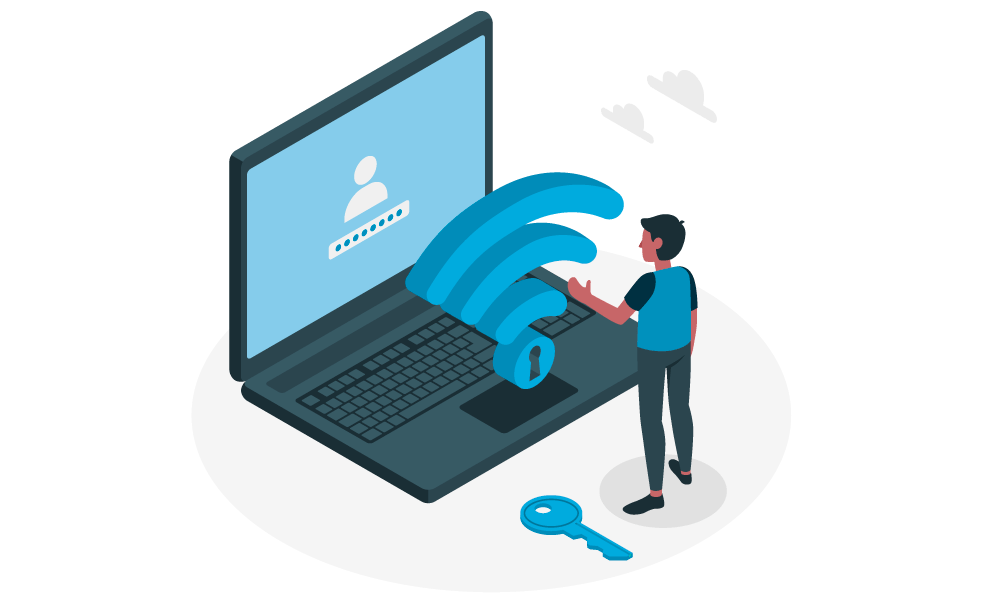 Supports WPA3™ Encryption
The latest Wi-Fi security for more protection

Stronger Encryption Algorithm
Creates stronger and more unique encryption keys for each device

Protection from Brute-Force Attacks
Stronger protection for users against password guessing attempts

Individualized Data Encryption
Creates stronger and more unique encryption keys for each device

Forward Secrecy
Cannot use a cracked password to decrypt previously-intercepted traffic

Future-Proof and Compatible
D-Link devices will not be the ones holding your network back with previous encryption protocols
Set Online Boundaries with Parental Control
Advanced Parental Controls allow you to create profiles for each child in your home and associate all that child's devices to their profile. All settings for a child's profile will then be automatically applied to all of their devices, so you can control when and how they access the network with ease.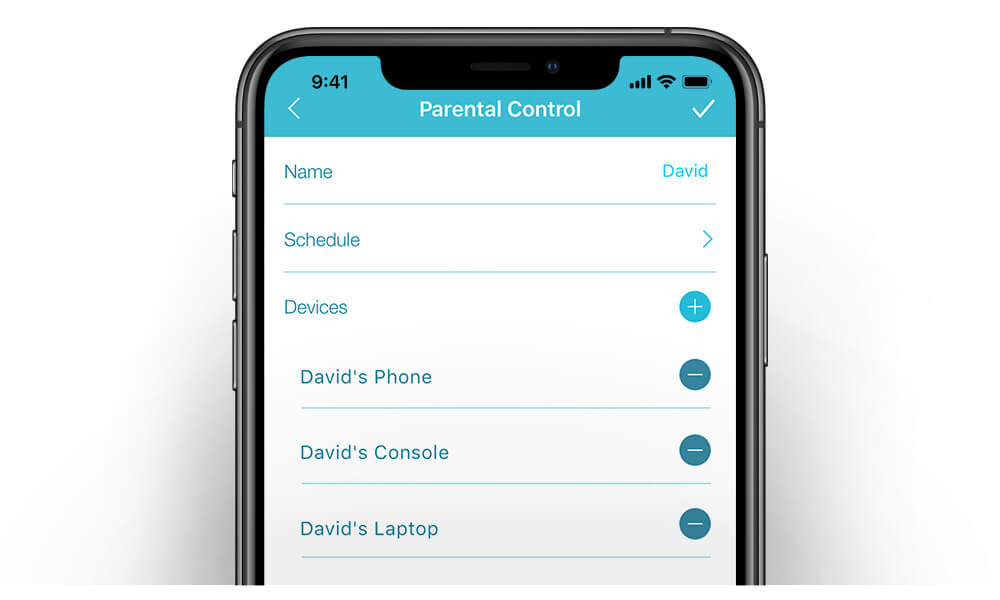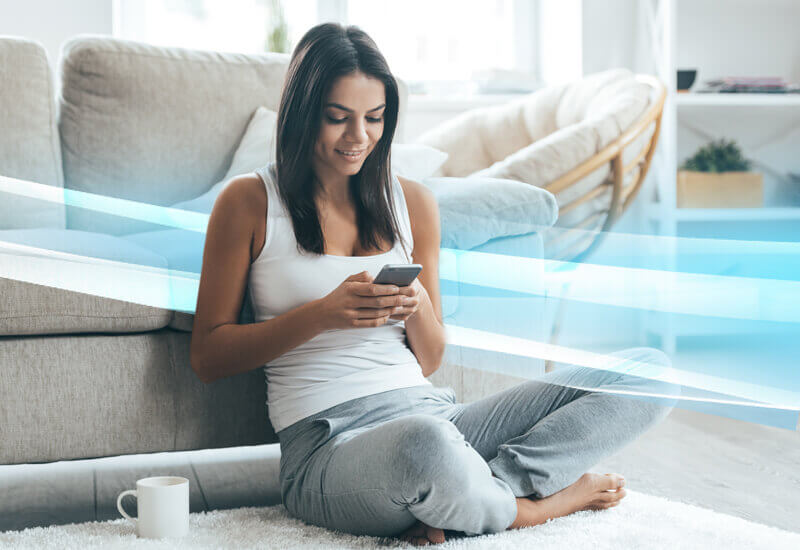 Simple Setup and Management
Get the DIR-2150 up and running in no time right from the couch using the D-Link Wi-Fi app on your Smartphone or Tablet. Simply plug in the router, open the app, and follow the few simple steps. Once setup, you can manage your network directly from the app wherever you are.
Supports the Google Assistant and Alexa
Easily integrates with Amazon Echo's Alexa or the Google Assistant for convenient hands-free voice control.
Turn on and off your guest Wi-Fi, check login credentials, and reboot your Wi-Fi system. The D-Link MU-MIMO Gigabit Router gives you smart Wi-Fi you can control, hands-free!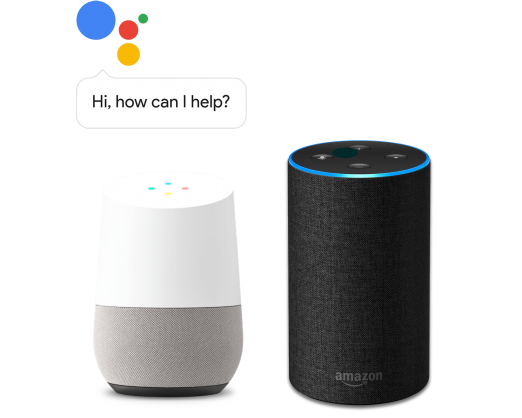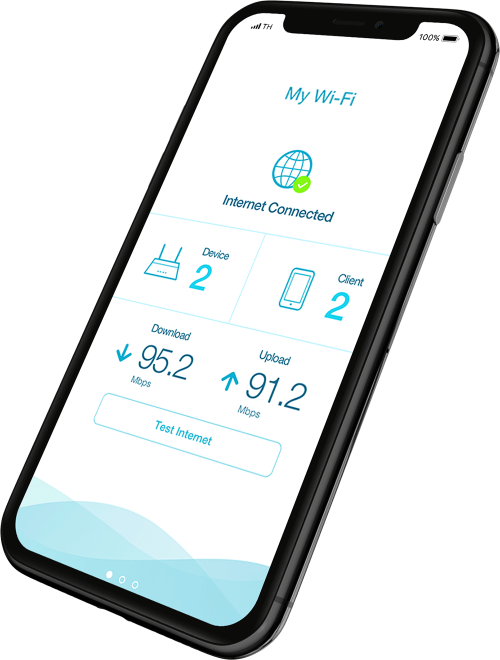 Especificaciones técnicas
Device Interfaces (per unit)
• IEEE 802.11 ac/n/g/b/a wireless LAN
• One 10/100/1000 Mbps Gigabit Ethernet WAN port
• Four 10/100/1000 Mbps Gigabit Ethernet LAN ports
• 2.4GHz
- Up to 300 Mbps¹
• 5GHz
- Up to 1733 Mbps¹
• IEEE 802.11ac
• IEEE 802.11n
• IEEE 802.11g
• IEEE 802.11h
• IEEE 802.11k
• IEEE 802.3ab
• IEEE 802.1q
• IEEE 802.11b
• IEEE 802.11a
• IEEE 802.11d
• IEEE 802.11v
• IEEE 802.3u
• IEEE 802.1p
• WPATM / WPA2TM / WPA3TM (Wi-Fi Protected Access)
• Web-based setup wizard
• Quality of Service (QoS)
• IPv6 compatible
• MU-MIMO (Wi-Fi)
• Wi-Fi Protected Setup - Push-Button Configuration
(WPS-PBC)
• D-Link Wi-Fi app compatible
1 Maximum wireless signal rate derived from the IEEE 802.11ac and 802.11n standards specifications. Actual data throughput will vary. Network conditions and environmental factors, including volume of network traffic, building materials and construction, and network overhead, may lower actual data throughput rate. Environmental factors will adversely affect wireless signal range.