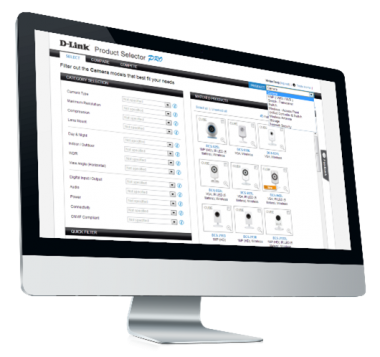 Get started with

A web-based tool to select and compare D-Link business products in a few clicks

GUI Overview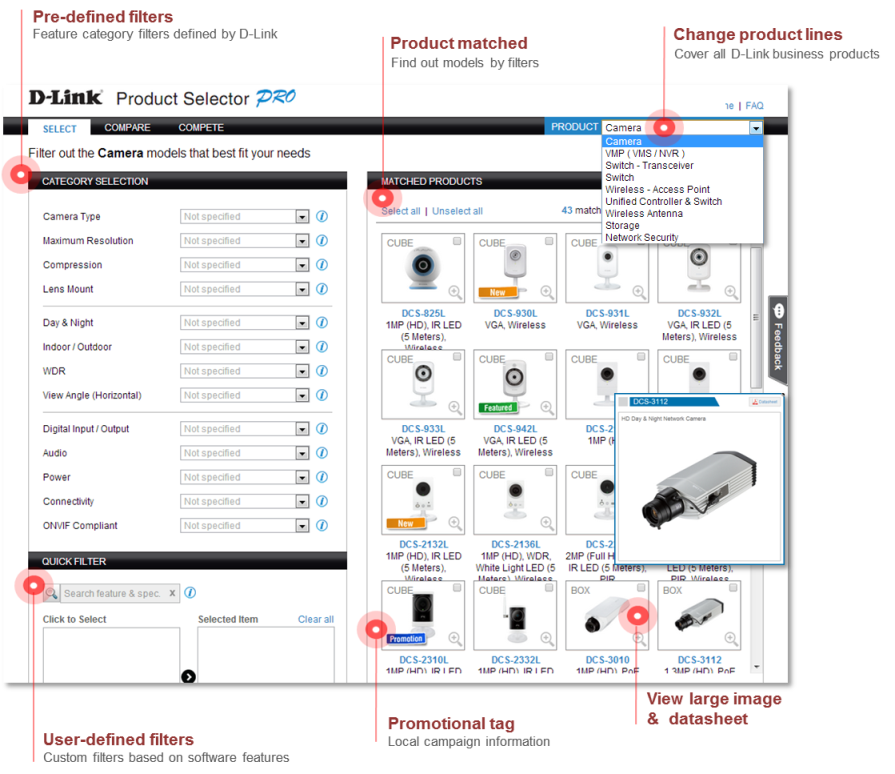 Tour (Switch module)

Select by pre-defined filter
Major features&specs to narrow down your selection.
For example, select:
.Stickability: "Physical"
.Switching Capacity: "100 Gbps"
Immediately show models that match the criteria. The selection narrows down to 29.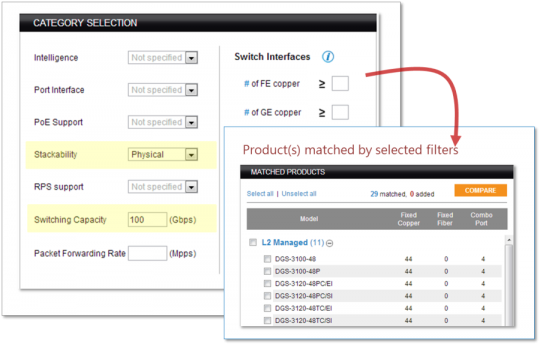 Create your own filter
Filter by software features
Besides pre-defined filters, you can also define a custom filter based on software features to filter out specific models.
For this example, enter "ipv6", and the system will show you the features available below. Just click on a particular feature to create a filter.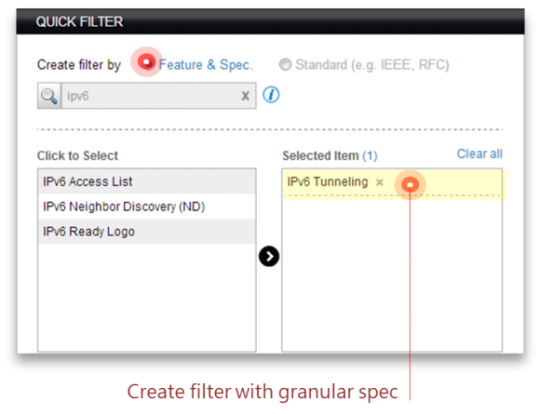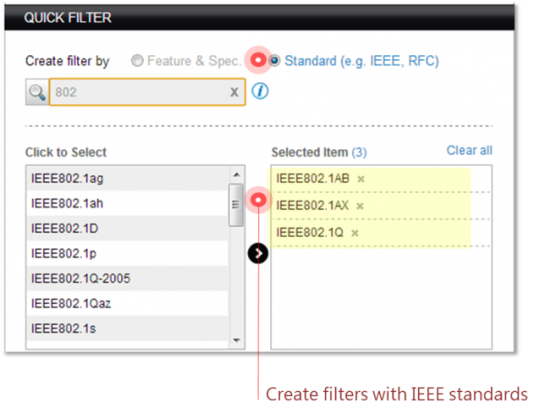 Filter by industry standards*
Custom filters can be also created based on industry standards. The more you specify your criteria, the better PSP can help you find the right product!
* Only available in switch module.

Compare products of interest
Once you have narrowed down the models by the filters, select the ones that you would like to know more, and then click "Compare".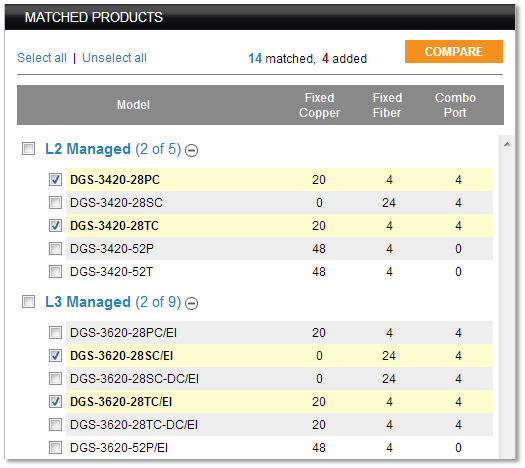 You will see a table of the complete specs of these selected models. Add or delete model(s) from comparison if needed.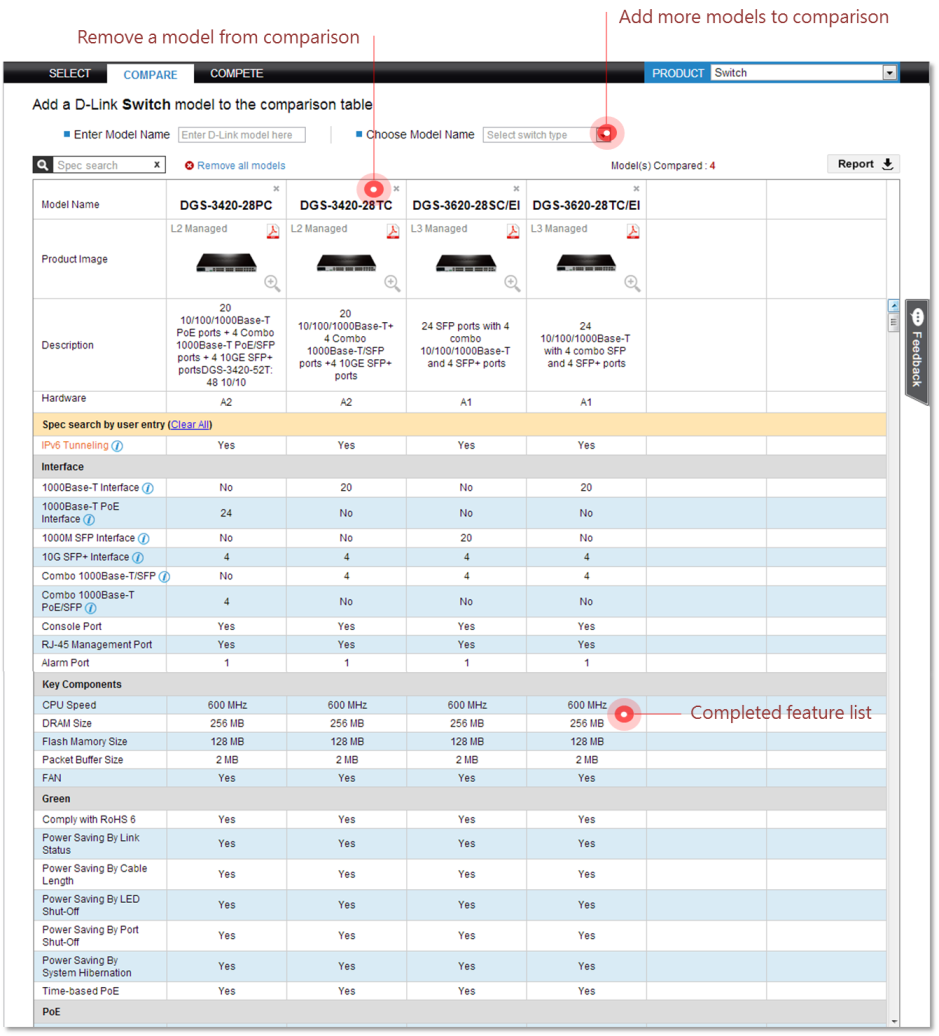 Search for specifically designated items from hundreds of specs
The long list of product specs can be overwhelming sometimes. To simplify this, enter the item you want to compare in the Search Box. For example: type in "super vlan", and the comparison table will hide other items, and leave only the one you are interested in.
You can also click on the item to move it to the top of the spec table for better comparison.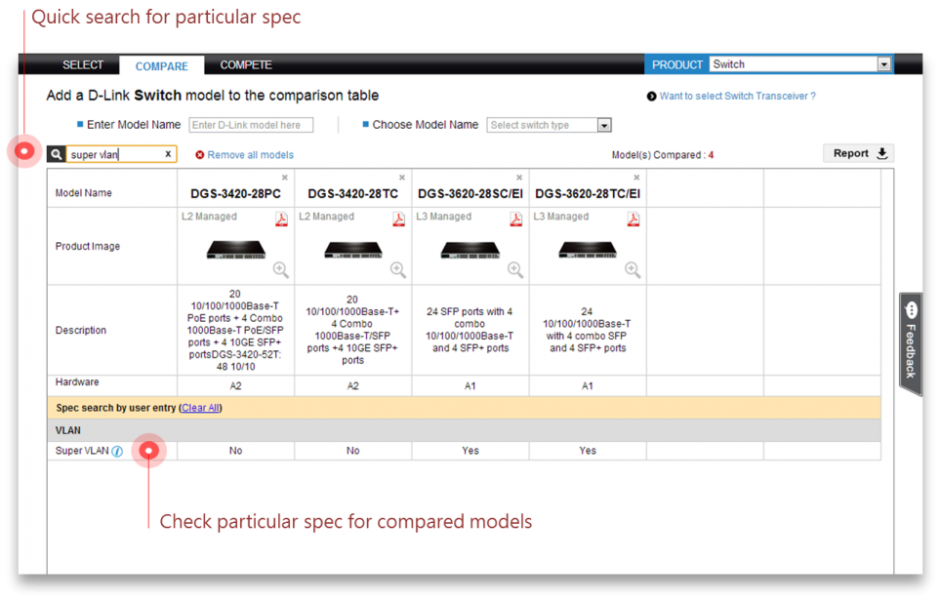 Download comparison report
After finishing comparison, you can download report in PDF format with complete comparison table, or only the items that you have searched in Quick Filter and the Search Box".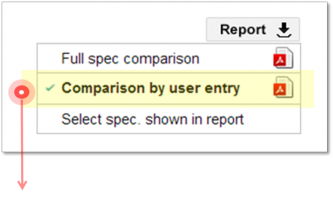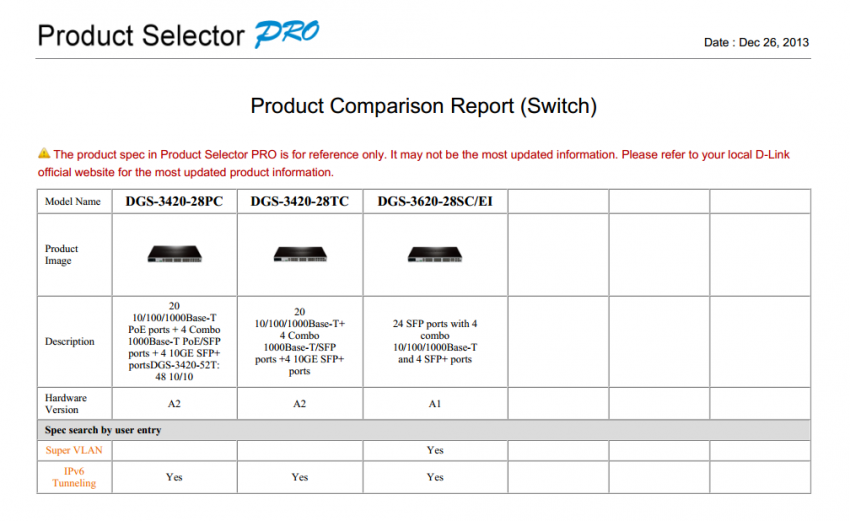 Design your own report
The comparison report can also be customized. Just select the features you want to be shown in the report, and now you'll have a report designed for your specific needs.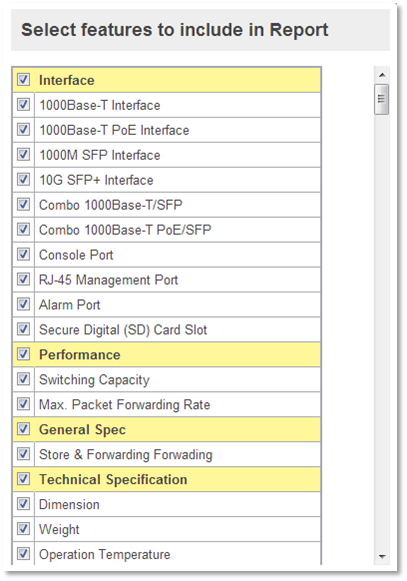 Featured Modules
Find the right PoE Switches in minutes - PoE Planner
PoE Planner is a handy tool to help you select the right PoE switches with more granular PoE features ( ex. power budget, PoE port number and standards ) to address real deployment of PoE devices.
By connected PoE devices
By selecting the device types ( AP or Camera ) and models that will be directly-connected to the PoE switch, PoE Planner will automatically calculate the total power required, and find the switches that meet the requirement.
All D-Link PoE products are supported and the system will consider its real power usage accordingly to match the right PoE switches.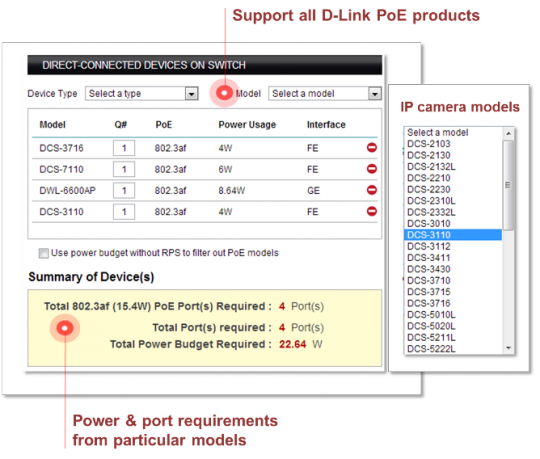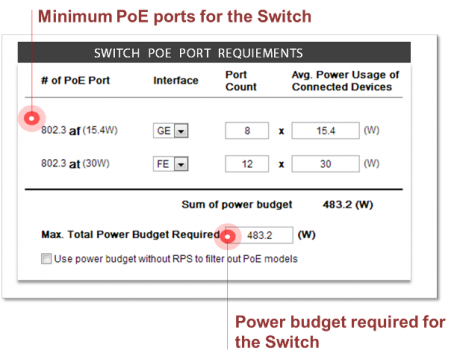 By PoE port requirements
On the other hand, you can also specify PoE port requirements to find out appropriate PoE switches.
PoE requirements
- PoE standard : 802.3af or 802.3at
- PoE Interface : Fast ethernet or gigabit
- Total PoE port count
- Total power budget required
Know competition better - the "Compete" function
"Compete" is a function designed to let you understand the competition better. After selecting a competitor's brand and model, the system will list the equivalent D-Link models and their spec comparison.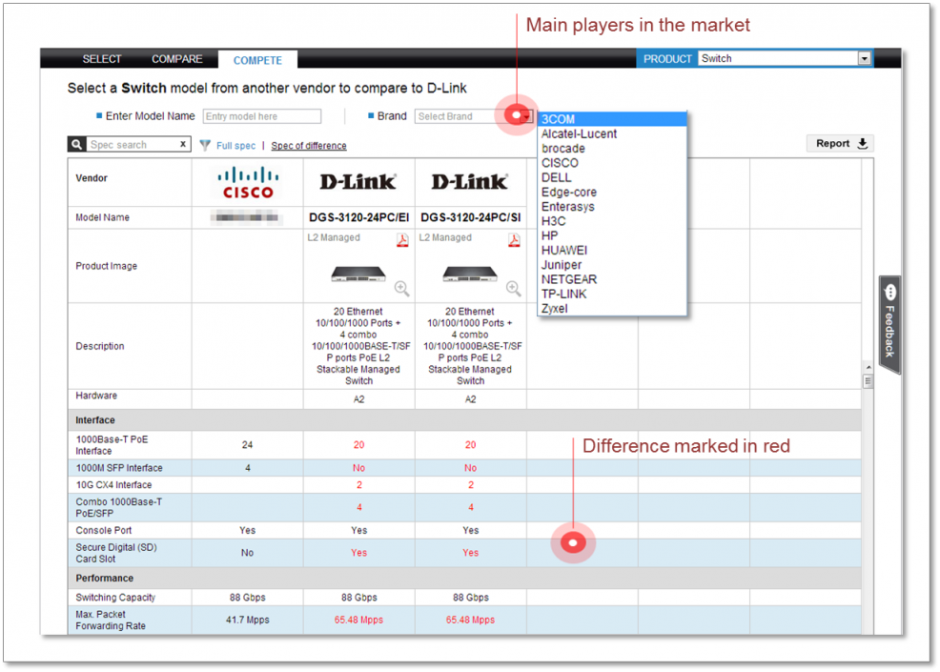 Start Using Product Selector PRO
Product Selector PRO is built-in on D-Link Partner Portal and only available for D-Link Partners. Click on your country / region below to try it now! If you have any questions regarding the access of this tool, contact your D-Link sales representatives.